---
Some images of recent work from the studio...

---
Construction of Hillsborough Wood Kiln

Construction of the wood kiln outside my studio here in Hillsborough is underway. Follow the construction through photo images by clicking on the "Kilns" tab on the drop-down menu above.
---
2017 Ice House Gallery Show in West Virginia
I curated and participated in a show at the Ice House in Berkeley Springs. The show closed on 10 September 2017 and featured pottery created using atmospheric firing techniques to include the use of wood or gas fueled kilns, raku and pit firing. Also included were salt and soda glazed pottery. Potters featured in the show in addition to myself included Brad Birkhimer, Joy Bridy, Bob Craig, Kim Ellington, David Flohr, Roger Jamison, Greg Laplaca, Peter Rose, Jim Sandefur, Joey Sheehan and Steve Wilson.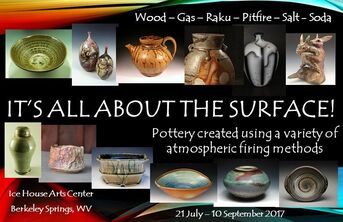 ---
Upgrades to the Hillsborough Studio

I've done upgrades to the studio and showroom space in Hillsborough to include having a receptacle installed for the electric kiln and an outdoor quick-connect hook-up for the gas kiln. The fixed window in the kiln room has been replaced with an operable sliding window to improve the ventilation during firings. I've replaced the two small incandescent overhead lights in the showroom with 12" x 48" fluorescent fixtures with daylight lamps, repainted the walls and floor and installed adjustable display shelving.
---
De-Construction of the "Cothrom Eile" Wood Kiln
The wood kiln in WV was de-constructed in March 2017 and the refractory brick hauled to NC to use in the construction of my next wood kiln!

---
Etsy
I've got a number of items on sale in my
Etsy shop
! Check it out...
---
Empty Bowls

I had been a regular contributor to the "Empty Bowls" initiative during my time living in West Virginia and was pleased to continue this effort by making a donation here in North Carolina. The local event benefits OCIM -
Orange Congregations in Mission .
Below are images of some of the gas fired bowls I've donated to the initiative over the years. This event affords me the opportunity to create bowls and experiment with form and glaze combinations on a relatively small scale before implementing preferred choices on sets or larger serving bowls.
---
---