Hillsborough Wood Kiln

My third wood fired kiln is currently under construction, this one outside my home studio in Hillsborough. The kiln will have approximately 30 cubic feet of stacking space and will feature a Bourry-style firebox. It will be similar in design to the "Cothrom Eile" kiln described below but will be smaller in size. The unseasonably cold weather and the holidays have put the construction behind schedule. The shed should be finished by the first week in March at which time, construction of the kiln itself will begin. Here are photos of the construction progress...
---
Here are some of the kilns in which I've fired pottery...

Great Cacapon Bourry-box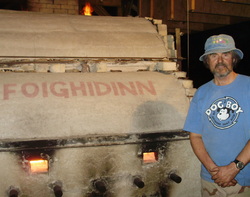 My first wood kiln, a dual chambered kiln I designed and constructed myself was located in Great Cacapon, WV. I christened it "Foighidinn" (Scots Gaelic for patience). It was a cross-draft sprung arch design with a Bourry-style downdraft firebox. The kiln had about 86 cubic feet of total stacking space within the two parallel ware chambers and took from 39-44 hours to reach temperature (just under 2400 degrees Fahrenheit). The kiln was fired 10 times between April 2006 and October 2009. it was deconstructed in autumn of 2010 as a result of our move from Great Cacapon.

---
---
Juliette Anagama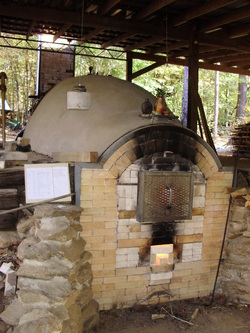 This is
Roger Jamison's
anagama kiln located in Juliette, GA. The kiln has approximately 250 cubic feet of stacking space and is fired for about 4-5 days. A group of invited potters take shifts stoking the kiln in exchange for the opportunity to include work in the firing. The kiln is typically fired twice a year in autumn and spring. I was privileged to have fired with Roger in October 2010 while living briefly on Tybee Island, GA.
---
---
Joy Bridy Wood Kiln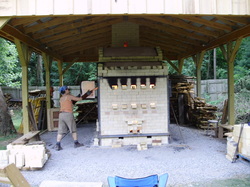 This single chamber kiln is located in Shenandoah Junction, WV near Shepherdstown and belongs to my friend
Joy Bridy
. It has a Bourry-style firebox. I was fortunate to participate in the inaugural firing of this kiln in July 2010. Joy had participated in a number of my wood kiln firings in Great Cacapon and is an experienced wood fire potter with a willingness to share her knowledge.
---
---
Updraft Gas Kiln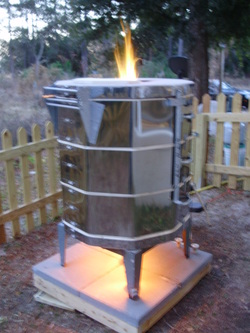 This 7 cubic foot updraft gas kiln is fueled by propane. The kiln fires to Cone 10 in approximately 10 hours (this includes an hour soak) and is fired about once a month outside my home studio in Hillsborough. Images of work fired in this kiln are included on the "Gas Fired Gallery" page above.


---
---
"Cothrom Eile" Wood Kiln Design Drawing
Construction drawings of my second wood kiln...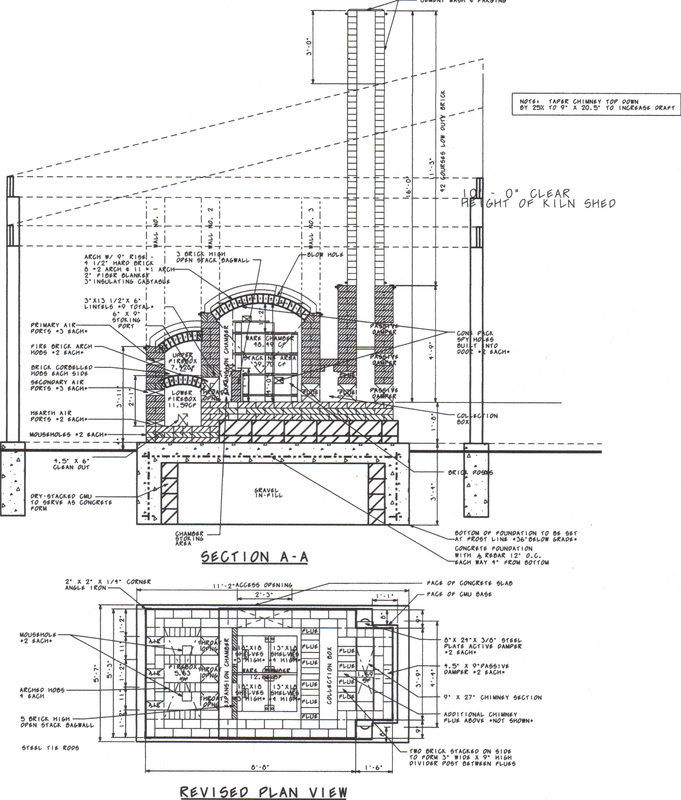 ---
Evolution of the Berkeley Springs "Cothrom Eile" Wood Kiln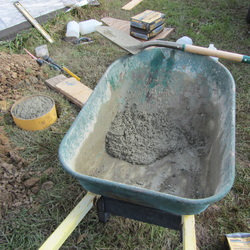 Construction of the single chambered sprung arch cross-draft kiln with Bourry-style downdraft firebox was completed in autumn of 2013 - see the photo essay below. I designed this kiln based upon lessons learned from my first wood kiln and from information contained in a number of wood-fired ceramics and kiln design publications. The construction included a shed and took approximately 9 months. I did most of the work by myself with occasional help on an as needed basis from my wife Leigh, my son Graham and my friend Bob. The ware chamber has about 40 cubic feet of stacking space. Click on the individual photos for an accompanying description.

---